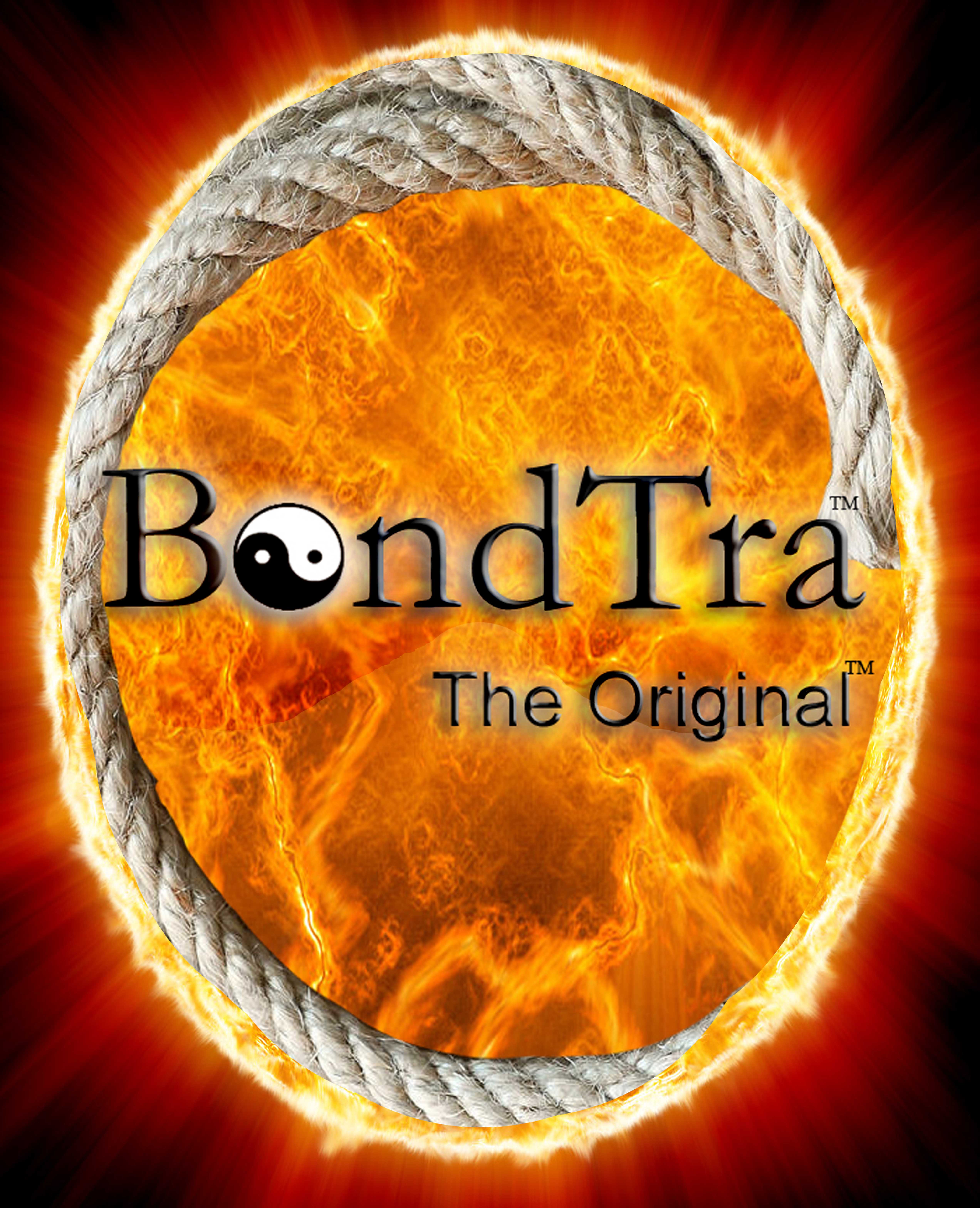 BondTra™, (erotically bonded) – a synthesis of Shibari & Tantra – is a therapeutic modality used to awaken the Fire within each client.
Similar to its sister modality The Nu-Body Activation System™, BondTra™, is both an Art and a Science used for  removing fear / trauma / armor / pain / blockages (collectively referred to as garbage) and all debilitating patterns from the physical, emotional and energetic bodies and resetting the client's genetic infrastructure (bio-chemical-electric-magnetic) to that of a new-born, perpetually orgasmic being.
Where BondTra™ differs from NBAS™ is in its specific application  of the Fire Element to release / increase sensuality and eroticism in the client.
Tantra, as defined here, is "The Dance Of The Masculine And Feminine Frequencies Within Us And Between Us".
To be clear, BondTra™ is NON-sexual in nature. As such, during a BondTra™ session, there is no contact with or manipulation of – either externally or internally – the client's genital area.
A BondTra™ session requires complete surrender, trust and vulnerability of both the client and practitioner.
During a BondTra™ session, the client is semi-nude (chest area exposed) and blind-folded and her breasts are  carefully and artfully "bonded" by the practitioner. The primary objective of bonding the client's breasts is to create a steady and consistent erotic stimulus (to insure that with each breath the flames of the fire are continually fanned).
Using rope-tying techniques from the ancient Japanese art of Shibari, BondTra™ aids the client in an increase in awareness and sensuality by way of its ritualistic approach to bonding as a therapeutic modality.
The "BOND" in BondTra™ represents bonding, not  bondage.
After the client is comfortably "bonded", the practitioner will lead the client – using Breath, Movement, Sound and Sensation – through a series of trigger points (pressure points intended to help increase her sensations and to release the fire throughout her body and especially through her loins, womb and pelvic areas. During the BondTra™ session the client will experience deep and multiple layers of eroticism which can last for days, weeks or even months.
In BondTra™, FIRE is "animated" along two "poles". First, the "inferno", which serves to burn away impurities as well as to "ignite" the dormant eroticism within the client. And secondly, the "glow", which sustains the fire so that the client can integrate her new sense of eroticism into her daily life. It is this inherent "polarity" within the Fire Element which BondTra™  accesses to help bring the client to a state of integration.
Therefore, a completed BondTra™ session leaves the client "glowing" with life, passion and an increased sense of sensuality which is immediately noticeable.
A BondTra™ session can be booked on it's own or in conjunction with (before or after) a NBAS™ session.
____________
"After the BondTra™session, I had a picture of myself as a walnut being cracked open. I feel more open. I notice how I feel when interacting with other people – I notice the relaxed state I'm in. I am getting closer to my real self. Even more tension has gone and it is exactly what I need at this period of my life and I am very grateful to you for this gift. Thank you."
M. – Russia
____________
"To me often comes the bliss I experienced during my  BondTra session. I look at the sky and thank you for your manifestation in my life. I cannot describe all the feelings in words. It's a great gift."
J.  – Kazakhstan
____________

"While I was in bonding I felt how strong I am, how powerful my energy is and that all my limitations are self-imposed."
K. – Russia
____________
WARNING:
If you have a male partner, there is a chance that he could feel intimidated or threatened by your new sense of body awareness.
Therefore, if you are in relationship, it is highly advised to discuss with your partner in advance your interest in having a BondTra™ session .